Your name is pretty much your everyday label. It's what people call you. Sometimes, you have a lot of different names. Some people have two first names (like the infamous Ricky Bobby). Meanwhile, other people grow to hate theirs over the course of growing up. And others add quirky nicknames to make themselves stand out even more in a crowd. No matter what you feel with your name, it's always an extension of who you are as a person. Basically, your name matters — and this is especially the case with the name you use on Instagram, whether it's your own idea or a suggestion from an Instagram name generator.
But why is that the case?
What's In A Name (From A Marketing Perspective)
The simple explanation is this: In the marketing world, your name is what sets you apart from billions of users. We call this your username, or your Instagram handle. For regular users, they usually put iterations of their names like MarkMark32, or MarkBoy. This is completely normal.
However, you are a business. Businesses in Instagram can be rather competitive. That's because we're talking about 25 MILLION businesses that use Instagram! Those profiles post content, post stories, share and interact with other users, and manage their brand. In these 25 million profiles, you're bound to have a friendly rival or ten and you REALLY need to stand out.
Besides, MarkMark32 and MarkBoy are hardly the kinds of names you'd associate with a professional brand so… yeah. You'll need to put a bit more effort into coming up with a name for your business. Otherwise, your sales will absolutely suffer (as we'll talk about in a bit).
Can Your Instagram Name Be A Sales Generator?
The short answer? Absolutely.
Everything starts with your branding. This means that your handle is at the forefront of how people remember you and search for the brand. Redundant handles can also spell disaster for your brands because they might miss your profiles.
Additionally, unremarkable names can also make your brand suffer. Even if you have the best or funniest content, but no one remembers your name (or it's irrelevant to your business), then you might fade away into Instagram's sad abyss of forgotten brands.
That's why besides cooking up a good name, you also need to make sure your profile is ripe to be noticed by other users.
Okay, do I have your attention now? Good. Let's discuss what makes a good Instagram name and business profile.
Coming Up With An Instagram Name
If you're still thinking of what name to use for your business, check out the following strategies that you can take into account for a great handle:
Think of a searchable Instagram name. This comes with a lot of mini-steps which we'll be discussing below, but first, we have to define searchability.
Searchability is determined by what we call the SEO, or search engine optimization. Google is an advanced machine that links and (sometimes) hosts over 1.8 billion websites. All of these 1.8 billion websites are fighting for your attention–specifically, they are fighting to be part of the first 1 or two Os of Google's search results.
According to research, people stop looking at the first few listings. Around 67% of listing clicks go to the top five results. Yikes.
This sort of algorithm is more challenging in Instagram. One word can string you together with hashtags and other profiles.
As an example, I typed in something basic: Shoes. Now if your sneaker business isn't part of these suggestions, people might likely give up searching for you. Booted in Instagram.
You need to make people notice you easily. That's why you need to optimize your business' Instagram name.
Making Your Instagram Name Searchable
It's easy and challenging at the same time. There are some preliminary tips to make your profile and name searchable. Here are some things I can impart:
Link your Social Media accounts. It's as simple as logging in to the social media accounts seen below: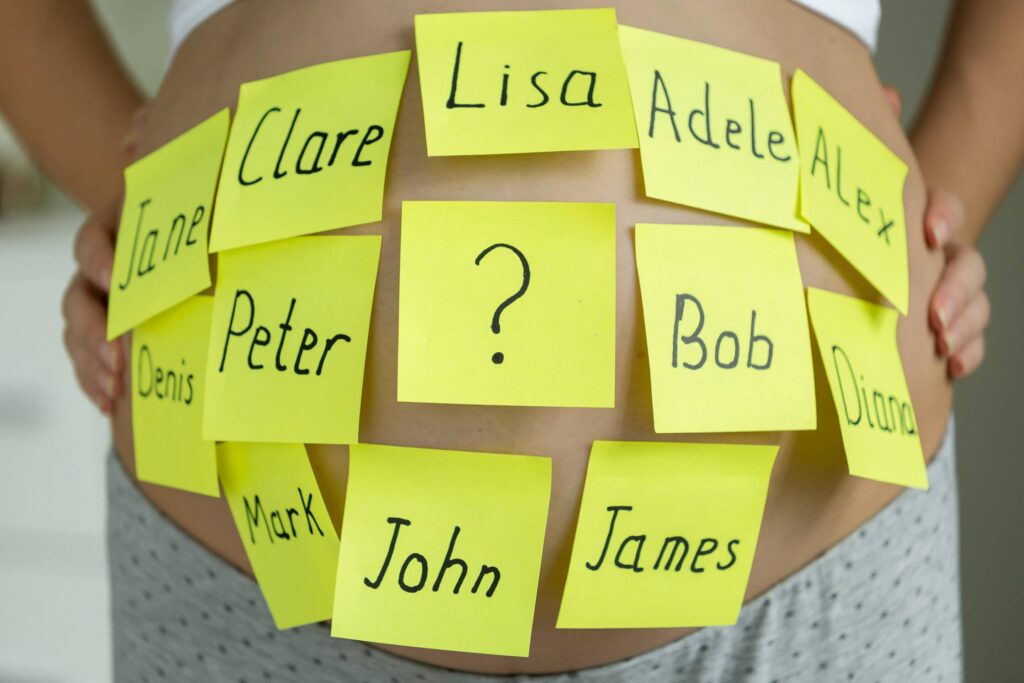 You don't have to make accounts for each of these, but if you have an existing one, go ahead and link away!
How does this work? Searchability is dependent on how latched on to the internet you are. The "wider" your presence is in different platforms, the more the algorithms assume that you're the top-of-mind brand the user is searching for.
You can also add an Instagram tab in your Facebook page. Since Facebook is one of the biggest kid in town when it comes to social media, you're also more likely to be noticed.
Also, it helps that Facebook bought Instagram some time ago. Think of it as mutualism.
Here are the steps establish your Instagram tab in your company's Facebook account:
Log in to your Facebook account. It could be a personal one; just make sure that this user has access to your business page.
After logging in, type out "Instagram" in Facebook's search engine. Click the Instagram result.
Click "Use Now" on the page – it's the blue button on the right-hand side.
You'll be transported to a page from Woobox. It might look spammy but it's not. It just links your Facebook account to your Instagram account.
Click the "Add to Your Facebook Page (Completely Free)" and initiate the install.
Then, select the page you wish to feature in your Facebook account in the drop down menu.
Click Add Page Tab.
Click Continue as… This allows Woobox to finish all necessary linking to both applications. Log in if prompted to.
Click to "Connect to Instagram" as a pre-final step. Then, Save Changes. Voila! Now your Instagram and Facebook is connected, adding to your searchability in BOTH applications.
Second tip: Make your account public.
A lot of business users miss out on this tiny detail and end up on specific followers' lists. Sometimes though, businesses start from small, private profiles so it's understandable if you miss out on this little detail.
We need to check first if your profile is already public. Check out the steps below to see how to set your account to Public.
Making your Instagram name public:
Log in to your Instagram account via your smartphone app.
Tap your Profile icon (the icon on the lower right).
Tap the Settings icon. The icon should be a gear icon in the upper-left.
Tap Privacy and Security.
Tap Account Privacy, then tap to toggle public Account on. This should make your profile open for viewing to Instagram's viewing public. If you are on a desktop computer, below Account Privacy, click the check box next to Public Account.
Final account set-up: Get your own shiny Verified badge.
If you made it this far, congratulations! This means that you're already searchable through multiple platforms (including Google!) and are already likely to pop up in Instagram searches.
If you're content with that, you can skip this part. (And, well, of course you aren't. Right?)
However, if you think you can use the following perks, you might want to read on…
Do you want your brand to…
Make your brand stand out against your competitors whenever you are searched and even whenever you comment?
Foster brand trust and more clicks with one look at your username?
Stop trolls or potential scammers from using your brand?
If any of these sound appealing to you, then you might want to get verified.
A verification badge is like… a badge of honor among celebrities, personalities, and other businesses in Instagram.
One example of a small business that got verified was The Shopify Stockroom. From 300 followers, this humble page almost TRIPLED its followers overnight when it got the blue badge!
The verification badge looks something like this: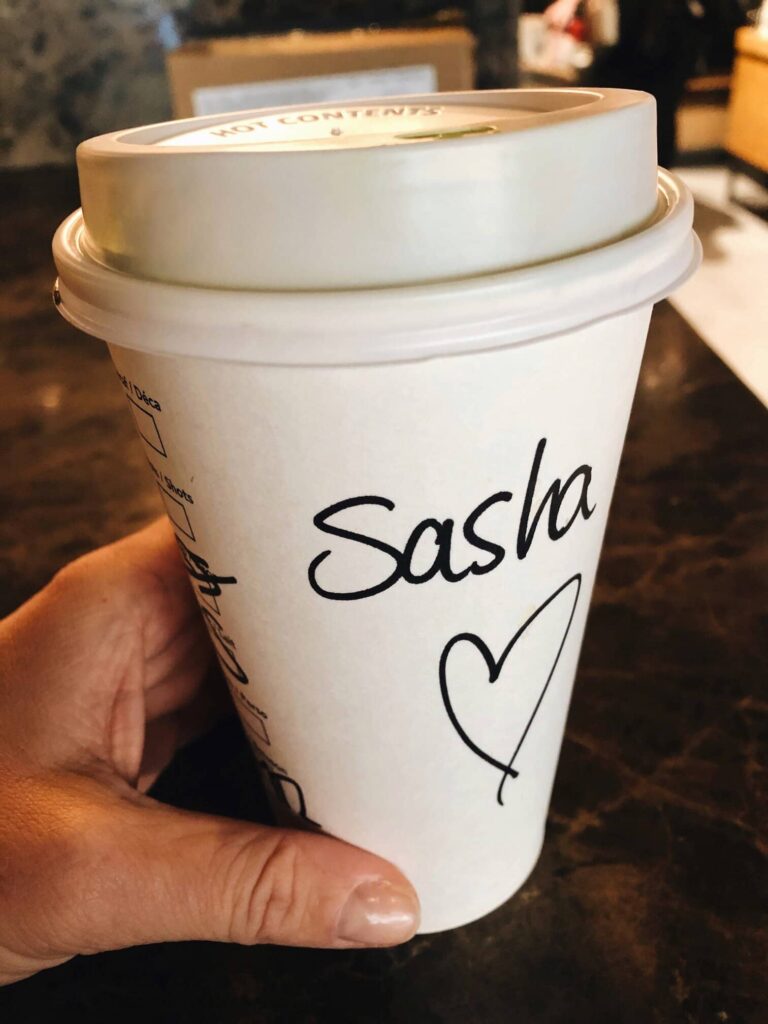 See that shiny blue verification badge beside the profile name? That's a verification badge. And of course, Nike would have one. It only makes sense for a brand of Nike's caliber to want to be verified on Instagram.
This means moving forward, your comments are like pinned messages that people get to view and consider first. If you have a call-to-action like a website visit or a purchase link, you can reply it there and it catches peoples' eyes.
How To Get The (Verified) Badge of Honor
Let's lay down some ground rules. According to Instagram, you need to have the following traits before they can grant you the blue:
In compliance with the terms and service,
You can produce all necessary verification documents of authenticity,
Your account needs to be complete,
The brand is referenced in different platforms and is searched often (remember what we did when we tried to improve your search engine optimization earlier?)
If you're interested to get amazing follower growth spurts and a wider brand awareness, you can get started with the following steps:
Log in to your Instagram account.
Tap your profile icon once again.
Then, tap Settings.
Next, tap Account. Afterwards, you now tap on Request Verification.
Enter your name and send all applicable verification documents (business certifications, business IDs, etc.). Make sure they are clear copies!
If your claim gets rejected, don't worry; you can try again in 30 days. I promise you, the blue is worth it for your business.
Okay, now that we had all preliminary details out of the way, I promised you what names you can think of. Here are some tips we can impart:
Keywords And Your Instagram Name
Keywords are things that remind people of your brand. Of course, your actual brand name is recommended, but what if it's already taken?
Let's say your account is Woodworks. A quick google-fu will show that there are at least 3 different iterations; @woodworksfurniture, @wwoodworks, and @thewoodworks. What do you do now?
You can pay off the most successful one and grab its name for yourself. That amount of cash can damage your capital, though. You can latch your name with your product, with something like @WoodworksInterior, or @WoodworksCarpentry. That way, people know 1) your name, and 2) your service at a glance.
Make sure that the second keyword is also something your target market would search for.
You can also localize your username. This is an excellent strategy for those who are starting small; divide and conquer the competition by establishing your camp first in your area.
Let's say your business is in Hawkins, Arizona and you sell ice cream. You can go for something like, @theiciclehawkins. People around the area are more likely to see you.
The Last Resort: An Instagram Name Generator
This is no means a lazy option; sometimes, the best inspiration comes unexpectedly. Using an Instagram name generator is okay. That's because these generators try to associate different preferred keywords you input into (mostly) interesting entries.
Take http://www.spinxo.com/instagram-names for example. This particular Instagram name generator gives you options on what to place when it cooks up random names for you, like so: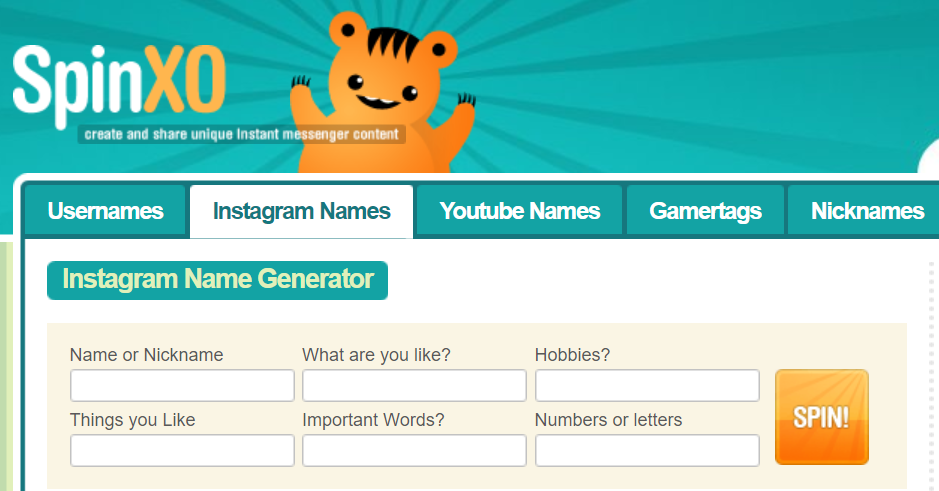 Check out the different fields available on that form. These should give you more than enough options for a truly unique Instagram name.
Now, take a look at some of this Instagram name generator's recommendations: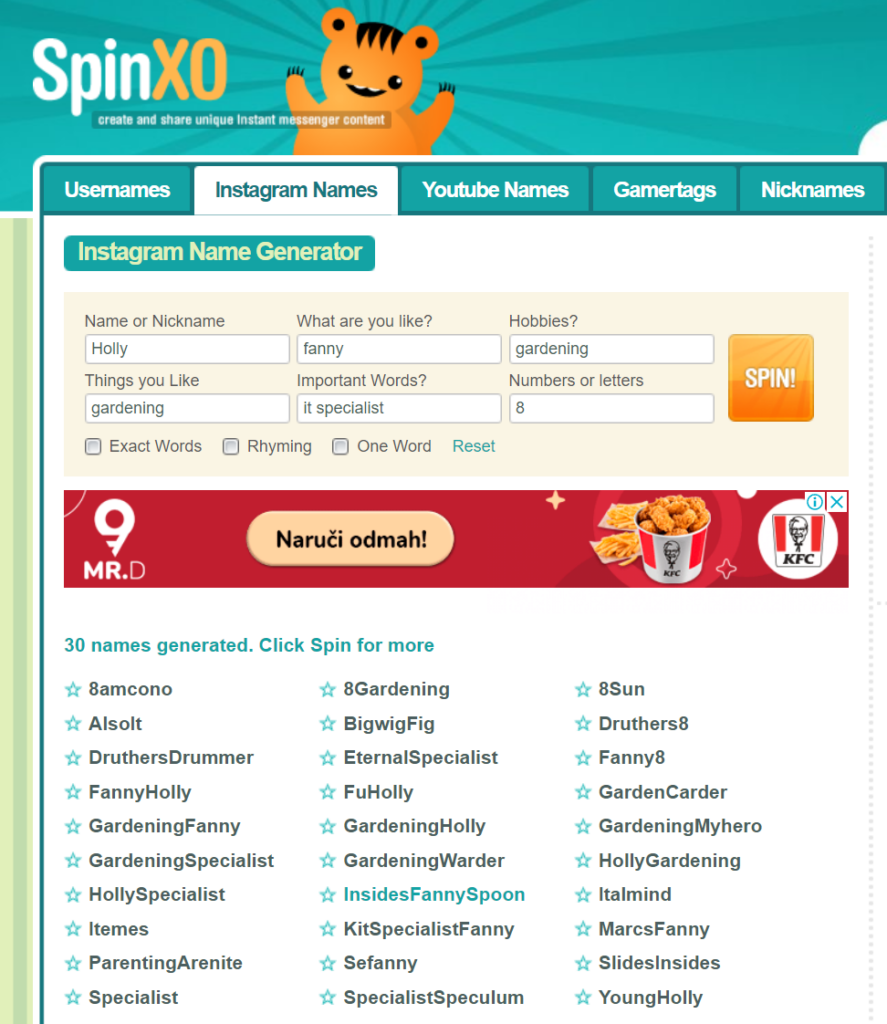 It can even check if those names are available for you!
So there you have it! Your Instagram name is so much more than a string of letters. In fact, they are bits of your identity, company ideals, and branding.
Making it look good is cool; making it work with how Instagram works and thinks makes it bigger–and translates to better sales and connections. Remember this the next time someone asks, "What's in a name?" You can easily point them in the direction of this article and give them a comprehensive answer.