You're here because you want to know: Does Instagram notify when you screenshot? (I won't bother asking WHY you want to know this, don't worry.) But before we get to that, some facts first.
There is a good chance that most of your family and friends are on Instagram. As of April 2019, the number of users of the world's most popular photo-sharing application has breached the 1 billion mark making it the third biggest social media platform just behind Facebook's 2 billion and YouTube's 1.9 billion active users.
Instagram's versatility and its ability to innovate have made it popular among users of all ages. There is so much you can do in this highly entertaining and addicting platform- you can share and view photos, videos and Stories. You can now also send friends direct messages and chat with them through the app. Advertisers and marketing people have also discovered what a gold mine Instagram is. Hence now, you can also do your shopping on Instagram.
Because of Instagram's highly visual quality, it is easy to lose track of time viewing and watching other people's contents. One minute you have promised yourself only thirty minutes, before you realize it, you have been sucked into the Instagram blackhole for the past three hours.
Does Instagram Notify When You Screenshot?
Now, there are instances wherein you want to take a screenshot of a post and you might be wondering, "Will Instagram notify the user once I have taken a screenshot?" There are instances wherein it would be perfectly okay, but sometimes, it might be embarrassing to have the user know that you have taken a screenshot of his or her content.
Well, the answer is a simple "no". You can take a screenshot of most content on Instagram without the person who posted the photo, video, or IG Stories getting a notification. But there is an exception.
But before I tell you what those are, let us first look into the reasons why a person might want to take a screenshot.
Why Take Screenshots On Instagram?
There are a myriad reasons why you might want to take screenshots of Instagram content.
Maybe you want to have a copy of a photo which really fascinated and impressed you in your phone for easier access in the future. It maybe an engaging shot of wildlife from National Geographic or a shot of an idyllic private island on Lonely Planet or a fun shot from India's Holi Festival at Condé Nast.
Maybe you want to save a witty meme you want to show to friends or an inspiring quote you would want to set aside for a rainy day. Maybe Nigella Lawson's recipe of the day caught your fancy and you would like a snap so that you would not have to scroll through hundreds of posts later when you are preparing to cook the dish. Did Gigi Hadid's latest outfit make you want to assemble the same ensemble?
The aforementioned are some of the many reasons why you would want to take a screenshot of photo contents on Instagram.
Does Instagram Notify When You Screenshot Stories?
Additionally, Instagram Stories are perhaps the ones which would make you feel the strongest need to take screenshots. After all, this Instagram feature is ephemeral. Media posted as IG stories are no longer available after 24 hours. It would make sense to take a screenshot of Justin Bieber's or Kylie Jenner's stories which caught your fancy because they would disappear after 24 hours. After an IG Story disappears, there is no way you can access it unless it is your own.
There are just so many reasons why you would like to take a screenshot. So, going back to the question- would the user of the post or content you took a screenshot of know?
Most Instagram Content: "No"
In the abovementioned cases, your taking of a screenshot is blanketed in complete and utter anonymity. National Geographic, Lonely Planet, and Nigella Lawson would not know that you took a screenshot of their content. Same goes with your cousin or your friend (or your ex-boyfriend's latest flame).
Instagram does not send notifications when you screenshot posts, stories, and most other content. Moreover, Instagram does not send notifications when you take a screenshot directly from a user's profile page.
That means that for now, you can pretty much continue taking screenshots of Instagram content in anonymity.
The Lone Exception: When Instagram DOES Notify You Of Screenshots
However, as in all rules, there are some exceptions, and in this case there is a lone exception. There is one instance wherein Instagram sends a notification once you have taken a screenshot- it is when you screenshot a disappearing photo or video in a direct messaging (DM) chat (also private conversations). On the other hand, if you take a screenshot of the entire chat or regular texts and images, the person would not be notified.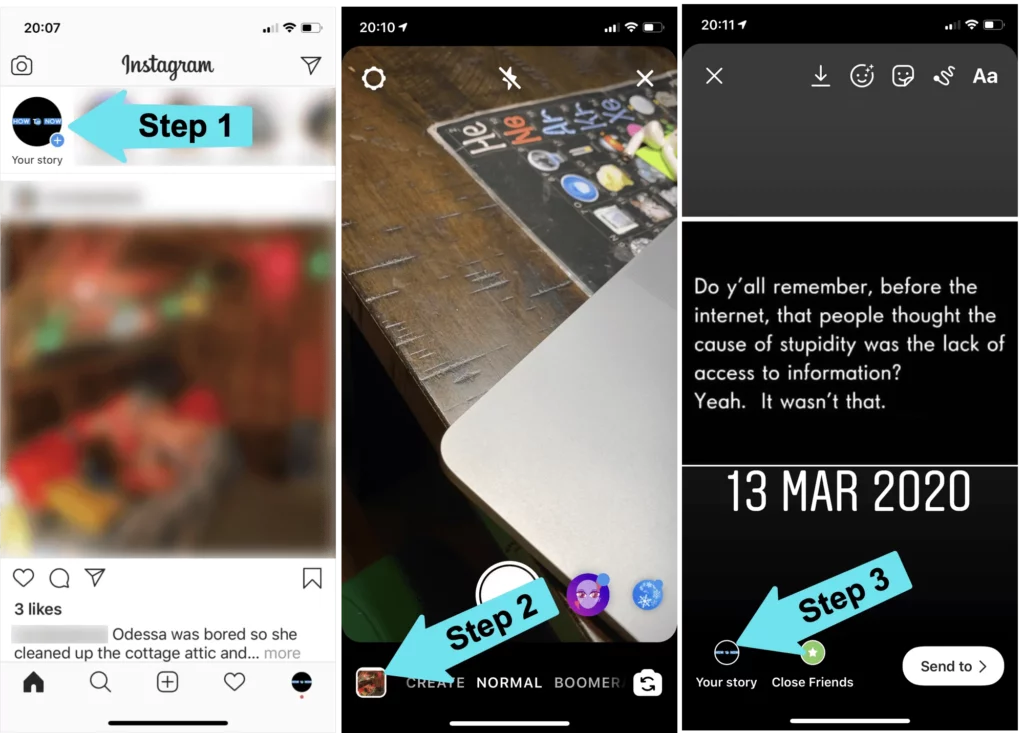 This leaves you with only one option if you want to preserve a disappearing video or photo someone sent you in a direct message conversation on Instagram. And that is by taking a photo of your screen using a different phone or a camera. (Creepy move, I know, but it is what it is. Also, please don't do that.)
Again, Instagram will notify the other party if you screenshot a disappearing photo or video in a DM chat, so take the snap only if it is all right with you to let the other person know.
How About Screen Recording?
Let us say you want to record certain portions of a video that was posted on Instagram and you want to know if the user can see that you recorded his or her video on your phone. The answer is also a "no". Instagram does not notify users when you screen-record videos in posts and stories.
Interestingly, this is a loophole that can be applied to stories on Instagram. You can simply capture a screen recording and then take a screenshot of the video file later on. You would be completely anonymous if you do this.
But we have to reiterate that you should respect the sender's privacy if they have sent you a sensitive photo or video in private. Do not misuse your ability to take screenshots or screen record in anonymity.
Moreover, you should also keep in mind that Instagram could fix this loophole in a future update. I am quite certain that the Instagram gods know of this sort-of weak link.
A Little More Information About Instagram Stories
As said earlier, currently, other people cannot see when you screenshot their Instagram story.
It should be noted, however, that in 2018, Instagram tried notifying users when anyone took a screenshot of their story, but dropped the feature not long after. But you should keep a tab on the Instagram app's updates just in case the function returns sometime in the future.
Instagram is teeming with various types of content. Sadly for now, taking a screenshot or screen recording is the only native way to save photos and videos from Instagram. Therefore, it is important to have an understanding of how Instagram handles screenshot notifications.
An Alternative To Taking Screenshots: Bookmarking
If you want to go back to a content- a photo or a video- in the future, but do not want to waste precious phone space by saving it as a screenshot, Instagram gives you an option to make it easier to go back to posts which you deem important or interesting. It is worth noting that Instagram has a bookmarking feature for posts that you like, but are not willing to save in your phone.
Bookmarking lets you flag pictures and videos for later. Your bookmarks are accessible from a section in Instagram app and these would not be downloaded to, therefore would not take up space in, your phone's gallery.
A really neat bonus is that you have the option to organize your bookmarked posts into separate genres or themes. You can create one for inspirational quotes, Instagram poetry, recipes, your favorite posts about dogs, and for anything else that you fancy!
You can save a post by tapping the Bookmark button present at the bottom right corner of any image or clip.
To view your bookmarked posts, go to the fifth Profile tab on the Instagram app and touch the three-bar icon in the top-right. Select the Saved item. Here, you can also build new collections by tapping the Plus button.
Before You Go!
At the time of this writing, Instagram still does not send notifications when you take a screenshot of a user's contents. Does not matter if it is a screenshot of a photo, video frame, home screen, or any other content on the app, including permanent direct message conversations.
But, be updated! While you are more or less generally safe for the time being to screenshot away anonymously, do remember that Instagram used to send more screenshot notifications in the past (for Instagram stories). Who knows, they may again change their screenshot policies in the future, so it would help checking in from time to time.
Irrespective of Instagram's notification policies, you should be mindful and respectful of people's privacy especially when you screenshot their personal pictures and videos. Do not abuse the fact that you can screenshot away anonymously.
On The Subject Of Strangers
Now, if as a user you are worried about strangers misusing your photos and videos or profiting from your content without your consent, you can protect your account by switching to a private profile. To set your Instagram profile to private, go to Settings and switch on the Private Account option. Your existing followers would not be affected by this, hence, it is best to do a double check of your Followers list to be certain that only the people you know have access to your content.
Also, you can use Instagram's Close Friends feature. This lets you share your stories to a specific set of users while keeping your profile publicly visible. You can configure the list by tapping on the Close Friends option located in your profile's hamburger menu. In the Your List tab, you could choose to add or remove your close friends. Once you are done with this, you will have a new green option before publishing a new Instagram Story. Enable it to share the story only with users in your Close Friends list.
To Sum It All Up…
Generally, Instagram does not send notifications should other users take a screenshot of your content. When we say "content" it is practically everything found on your Instagram- photos, videos, Stories.
Disappearing photos and videos sent via direct messaging on Instagram are the lone exception; the sender will be notified if you screenshot these types of messages. There is a loophole, though, which we already discussed earlier.
Screenshot responsibly. The cloak of anonymity does not give you the license to use screenshots maliciously. Be responsible Instagram users. You do not want other people taking advantage of and using your content maliciously, right?
Instagram has changed their notification procedures in the past, taking screenshots included, and may change them again, so make sure to check on screenshot notification policy periodically.